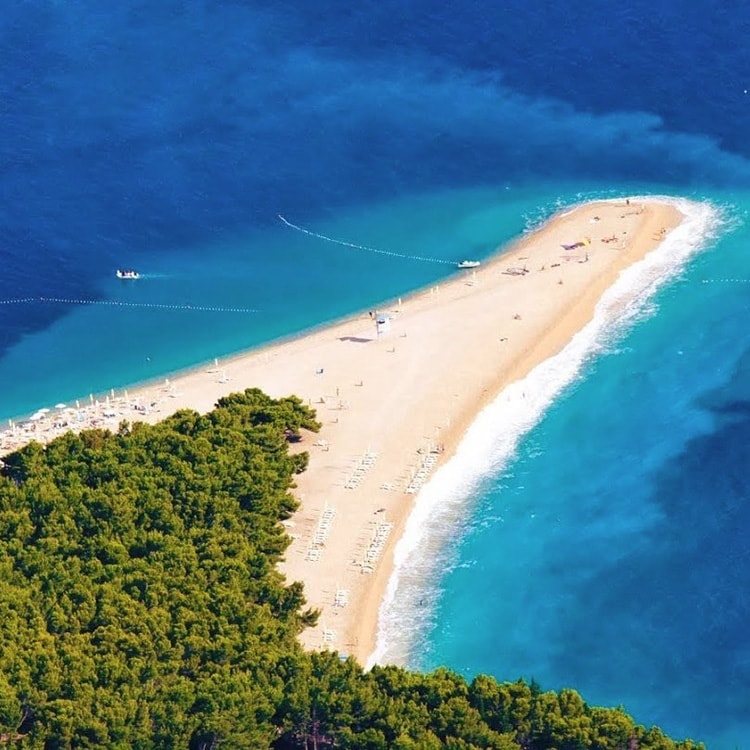 Bol, village on the island of Brac
Bol, the site of the world famous Zlatni rat beach. Known in English as the ''Golden horn beach'' it is located western side of town about 20 minutes walking distance along the promenade. Altrough very impressive and definitely a site to see, Zlatni rat is more of a beautiful panorama, when you are actually on a beach it is a normal pebble beach where it sometimes seems to be more people than pebbles. The town itself is a typical island town with all the comodities of a tourist spot. During the day the beaches are overflowing with tourists so if you want a little more comfort it is best to visit them before 11am and after 4pm. It is a very popular day trip site and people from all over Brac island and even from Hvar island visit it daily. A great place to visit is Vidova gora, which is the highest peak of all Adriatic islands, the view is stunning and it is within cycling distance from town. There is even a small sheepherding village near the top. The climb is very nice as it is an excellent opportunity to explore the slopes adorned with wineyards. You can rent just about anything here and an interesting thing is that due to the local weather conditions the place has a very well developed windsurfing scene. There are also kites, parasails, bananna rides, and everything in between. There is no shortage of accomodation, the hotels are numerous and private accomodation even more. Zlatni rat is not the only beach around and all of them are natural pebble beaches. There is an abundance of restaurants bars and night clubs so nightlife is very well developed. There is something for everyone and shortage of content will not be an issue here, on the other hand the place is a bit over commercialized. During your stay in Bol, one day trip to the caves of Vis and Bisevo islands will enrich your experience about the similarities and differences of middle Dalmatian islands.
Source: Ilirio's

Bol (its name derive from the Latin word "vallum") is renowned for its most popular beach, the Zlatni Rat ("Golden cape"). It is a promontory composed mostly of pebble rock that visibly shifts with the tidal movement. The Adriatic Sea water at Zlatni Rat is clear and somewhat cold, due to the strong current of the strait it is situated in. There is a beach on either side of the horn. Bol itself is a popular tourist destination, known for its harbourside bars and restaurants, and wind surfing conditions.
The Dominican church in Bol contains a number of paintings by Tripo Kokolja.
Source: Wikipedia