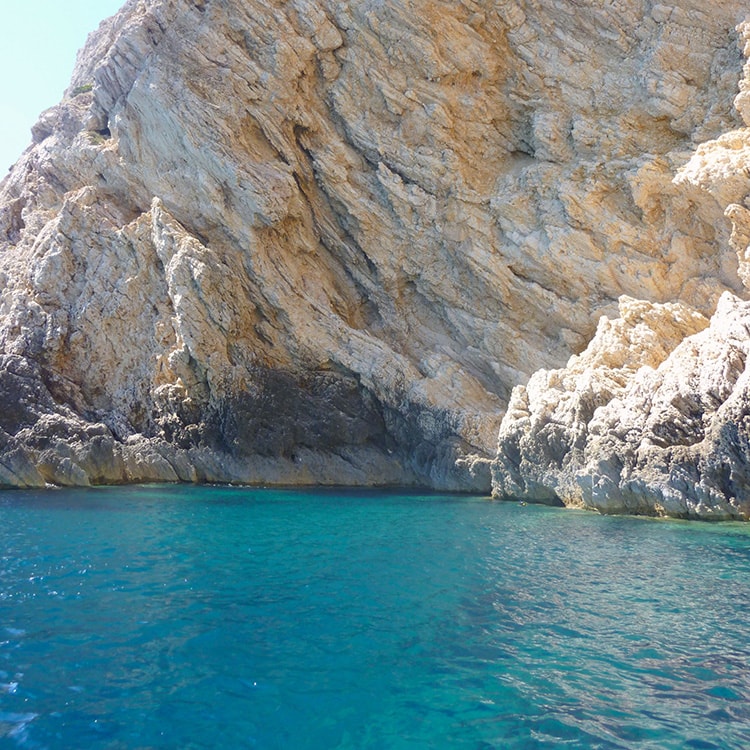 Bisevo
Bisevo is a small island just a few miles from Vis and the closest town on Vis in relation to Bisevo is Komiza. The little island is the home of many sea caves of which the most famous ones are Blue cave and the Monk seal cave, and also a multitude of steep cliffs and a few beaches. This open sea island, a permanent home for fishermen, is located in the middle of the Adriatic sea, and is a challenging destination for boaters and tourists, mostly thanks to the Blue cave, an immensley beautiful natural pheneomenon. In the winter months mostly, the island is subjeted to a strong influence of the sea and is completely exposed to winds. That which has been shaped by the sea for centuries is best viewed during the summer months when the sometimes moody charachter of the Adriatic sea gives way to a mild Mediterranean climate. The exuberance over this island is the main reason that I started doing the Three Caves Tour and the Blue cave is the main reason from the start that my boats have the performances for the open sea conditions and the dimensions that allow a direct entry and visit into the most famous cave of the Adriatic. The Blue cave is visited by guests mostly by speedboats from Split, Hvar, Brac, Makarska, Trogir or better said from all over middle Dalmatia and beyond. The seafloor around Bisevo probably hides many undiscovered secrets left over from ancient times. The known attractions of the seafloor are rediscovered every summer by many guests on diving tours. The interior of this small island is unjustly and inadequately presented to the guests so they associate it mainly with the Blue cave. Still, Bisevo is much more than just one cave and the Three Caves Tour is surely the best way to get to know it.
source: Ilirio's

Bisevo is an island in the Adriatic Sea in Croatia. It is situated in the middle of the Dalmatian archipelago, five kilometers southwest of the Island of Vis. Its area is 5.8 km2 and it has a population of 15 (as of 2011). It is composed of limestone, the highest point is Strazenica, 239 m high. In the center of the island there is a fertile field, the northern part of the island is covered with pine forests and the rest of the island is covered with maquis shrubland or bare rocks. The coastal sea belt is a rich fishing area. The main industries are viticulture and fishing.
A Benedictine monastery was founded on Bisevo in 1050 by Ivan Grlic from Split, but it was deserted two centuries later because of the danger of pirates. The church of Saint Sylvester is preserved near the ruins of the monastery.
source: Wikipedia