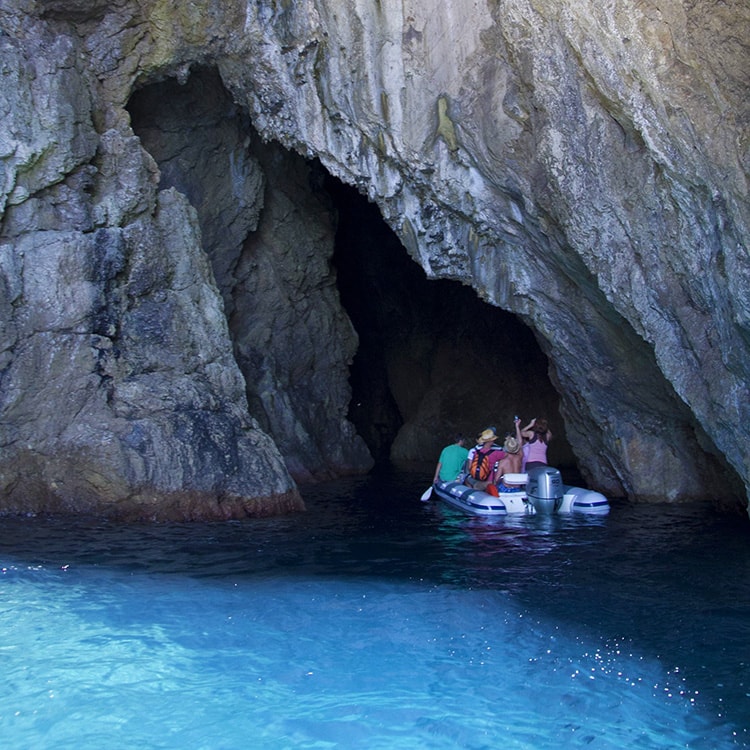 Monk seal cave, Bisevo island
Medvidina spilja or Monk seal cave is the longest cave on Bisevo island, 160 meters long. It gets its name after the Meditarranean Monk seal. It is located on the southern tip of the island, called Biskup (bishop) on the border of Tresjavac cove. From the sixties onwards the Monk seals have all but disappeared and only in recent years can they again be seen in the Adriatic sea.
The seal dwelled in the caves and used it as its spawning grounds. The cave can be entered via a small boat and the play of light inside the cave in a certain time of day becons you to experience it in its full beauty. The cave tightens after 40 meters and a rock in the middle prevents any boats from going further. More about the cave and the Monk seal can bee found out if you deceide to take the Illirio's Three Caves Tour with us and enjoy the way we reccomend you to, because we know how to find an ever better way to present a place and unbreakably bond your fond memories to it.
This, another really special cave of the southernmost inhabited island of middle Dalmatia uncovers with mystery and scent how beautiful and completely different hidden places can be. The Monk seal, one of the most endangered mammals in the world, will surely not join us on our little exploration because it shy away from humans, and rightly so. A sworn enemy of the fisherman and any trace of urban settlement, it finds its fortuneit most secluded of places and lets us enjoy its former home.
Source: Ilirio's