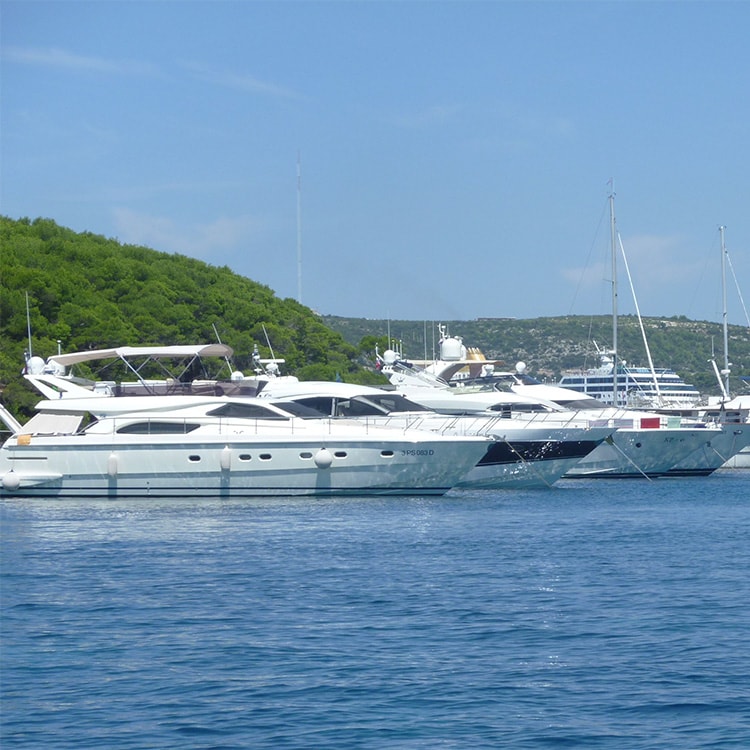 Palmizana on Pakleni islands
Vinogradisce bay or Palmizana is the most popular cove on the Pakleni or Paklinski islands. It is located on Sveti Klement island, the largest in the group of islands which make up the Pakleni islands. The orientation of the cove is south-southwest which makes it a suitable natural shelter from all winds except te southwestern one. The wind and the influence of the sea has made a sandy bottom and a few insignificantly small beaches which are full in the summer months. Palmizana has many faces so you need to plan the time of your visit well in order to be greeted by the one that you like the most. The faces of the most famous cove on Pakleni islands vary from a deserted winter idilla over to a beautifull summer cove made for peaceful and undisturbed enjoyment in the sun and sea, and the third face is the one of a typical party destination for young tourists that occupy this little cove for the bigger part of the season. The cove can be visited by a private boat, or one of the daily trips or most commonly, the taxi boats that connect this popular cove with Hvar town really well. Most of the guests that visit Hvar usually take one whole day to visit Palmizana. With the increase of popularity in the last two decades, the offer and number of restaurants and bars has increased significantly. Apart from swimming and enjoying the sun and the bars and restaurants, as well as the accomodation, it is possible to enjoy walking to other little coves on the island. Palmizana is one of the places we visit on the Three Caves Tour and we recommend it to those who like its second face the most.
Source: Ilirio's

Palmizana (Italian original name Palmiziana) is a small uninhabited village/tourist resort on the Croatian island of Sveti Klement (San Clemente) in the Adriatic Sea, located off the Dalmatian coast. Sveti Klement and Palmizana are geographically located in the Paklinski Islands archipelago and administratively they are part of the Split-Dalmatia County of Croatia. Palmizana has a marina with room for 200 boats, a small shop and a tourist information office. Tourism on Palmizana was established in 1906 by Professor Eugen Meneghello on his 300-year-old estate. He imported exotic plants from all over the world and created the rare and magnificent botanical park. Eugen's son, Giorgio Meneghello Toto, one of world's best grouper fishers, built the island's complex and his wife, Dagmar (nee: Gebauer), has been managing Palmizana for over 30 years. Currently, Dagmar manages Palmizana with the help of her three children and her grandson.
Source: Wikipedia