---
With years of first-class service, Ilirio's Three Caves Tour takes you to all the local hotspots like the famous Blue cave, Stiniva, Green cave... and many more.
---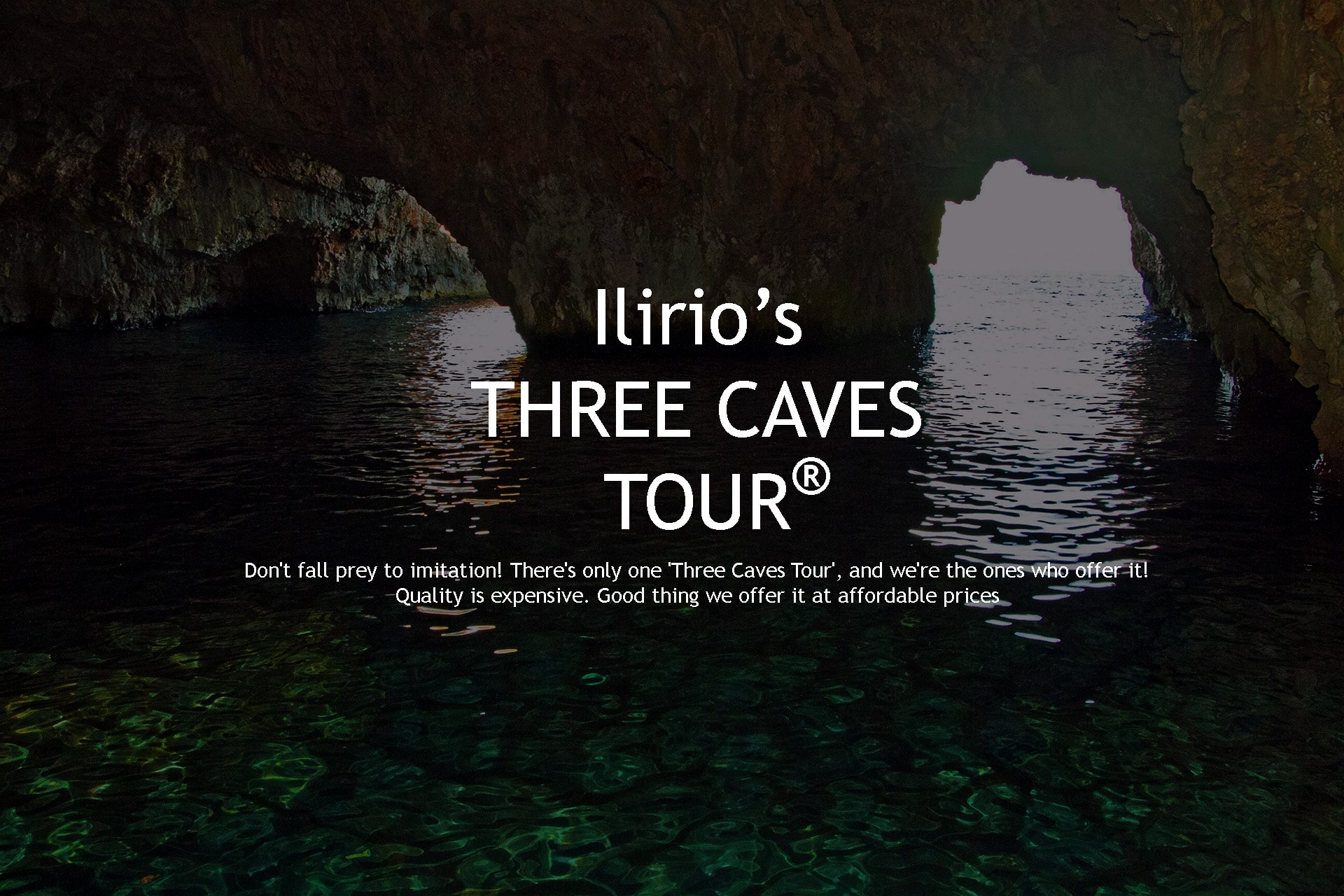 Ilirio's Three Caves Tour departing from Hvar to Green cave, Stiniva, Blue cave, Porat, Monk seal cave and numerous secret spots
---
Ilirio's Three Caves Tour ®

rated

5.0

out of

5

stars based on

1

ratings
Your Rating:
---

Locations visited and activities undertaken during our 8-hour program:
Vis island, Bisevo island, Komiza village, Blue grotto, Stiniva cove, Green cave, Monk seal cave, additional caves, 2 secret spots, pebble beaches, sandy shores, travel length of 90 Nautical miles 10 guided breaks, 5 (+2) swim stops, snorkeling, caving, cliff-jumping & more
Meeting point:
Hvar harbour
Departure time:
9am
Duration:
full-day trip, 9am - 5pm
Participants are advised to bring:
a towel, swimsuits, sunglasses, sunhat, sun block, long-sleeved shirt, windbreaker, water (your medicine)
Tour type:
light adventure, nature & wildlife, family friendly, dynamic small-group experience
Speed boats:
RIB boats for choppy sea
Activity level:
Low to medium
Disabilities friendly:
No
Notice:
This tour is not recommended for women in pregnancy, or those who suffer from back or neck injuries. Risks are minimized, but in that case you participate at your own risk
Kid friendly:
minimum 6 years old
Important:
We retain the right to change the route for the benefit of all passengers. This decision is made by the skipper.
Due to congestion in high season, it is very likely that the visit to Komiza village gets left out
Starting the vacation of your dreams with friends, family and the excitement for the day ahead, we meet in Hvar harbor where you get to know the people who will be on the boat with you and also the skippers who take you on the tour and are also your guides with years of experience.
The adventure begins early, a bit earlier than most in order to avoid the crowds at certain locations. You hop on the boat and off you go enjoying the sun and the waves. The first stop is the Green cave on the island of Vis, known for its gorgeous color. Skippers will provide interesting stories and fun facts about this place, and all the other ones, and you can also snorkel to explore the tranquil underwater scenery of this cave.
After that, it's off to another island -- Bisevo, home of the Blue Grotto -- and one of the wonders of the Adriatic coast. Over the course of the day, you will get to know Bisevo, starting with the Blue cave, and cruising along the northern cliffs to stop at an absoulutely beautiful sandy beach called Porat bay. The place seems almost private and features a small but lovely beach restaurant where you can enjoy delicious local cuisine. This is the place where you can get some lunch after which it is time for two secret locations that will inspire and amaze you. These are the highlights of the day, and you will have an opportunity to swim almost every time we stop.
The third cave you go to is called the Monk seal cave. It's quite different than the others, with its tall ceeling and great depth.Another highlight and the final stop is Stiniva bay an almost completely enclosed cove surrounded by steep cliffs.
Why is the Three Caves Tour so special? Having fun, enjoying your vacation, and being able to see all sorts of different breathtaking locations in only one day is what this trip is all about. The aim here is to create a memorable experience by combining happy and cheerful ambient, a flexible schedule, and secret locations known only to locals. The goal is to make you feel the excitment of a dynamic trip with your friends, and not hampered and bored to death with long tedious stories and generic sights. You can read all about it in articles featuring the Three Caves Tour, as well as on TripAdvisor.
We offer a unique blend of exploration, adventure, and good old-fashion fun:
adventurous ride in a speedboat, completely safe thanks to our highly-experienced and qualified skippers
cliff-jumping, boat-diving, swimming in at least 5 unique locations, snorkeling, underwater exploration
taking pictures and selfies in one of the most special places in the world, creating postcards with images of the Green, Monk seal and Blue cave, exploring intimate coves and sandy beaches, seeing memorable cliff geometries along the coast, walking and eating on gorgeous and secluded shores
reliable and experienced skipper-guides adding to the overall experience by informing you about the places you're visiting through educational and fun short stories every time you stop at a new location.
Every new trip is an new chance for us to create a once in a lifetime experience for you to cherish forever. If you have one day and want to see as much as possible for your money, this is one of the best decisions you can make.
PRICE (per person):
560 kn
(approx. 75 EURO)
Discount for kids:
Children from 6 up to 10 years of age are entitled to a 50% discount.
What's included:
Boat ride, english-speaking skipper-guide, safety gear, snorkel gear, full insurance, all taxes
Lunch and Blue cave entrance ticket are not included
Find answers to most common questions from our travelers in our FAQ section
Don't forget to check out traveller reviews and blogs about our tour:
Find out all relevant info about ilirio's Three Caves Tour starting from other destinations: